Jumbo Campground is a pretty standard National Park campground located about 45 minutes east of Grand Junction. A friend who lives in SLC and I decided we'd meet in the middle and get some fishing in on one of the many lakes in the area. The campground itself was great! There were quite a few camp hosts around and overall it was very clean and quiet. There were quite a few people there but no loud families or partiers for the most part. We set up in our spot which was about 100m to the outhouse and a spigot where we could get fresh water. We were right next to a small reservoir and in spite of the road being just across the reservoir, noise wasn't a big issue.
We spent the first day fishing in the lakes right near the campground, creatively named Mesa Lake 1, Mesa Lake 2, and Mesa Lake 3. I had a fly rod and my friend had a spinner. The fly rod ended up taking the day with me pulling in several more fish. My buddy made the great decision to bring a small inflatable raft which got us access to large sections of the lake most people couldn't/wouldn't walk to and that ended up being where we caught all the fish. We ended up pulling about 4 out but threw them all back because it was getting dark and we'd already eaten. There were other people fishing but not too many and certainly nobody making a lot of noise and after dusk we were the only ones on the lake.
The second day we decided to take the truck and go looking at some of the lakes we'd scouted on maps. Having the truck was great because some of those forest roads required a bit of clearance. A car likely could have made it as well, but not without some effort. The three or four lakes we scouted out ended up being beaver ponds that were either completely grown over with some kind of invasive lilly pad, or just had water too low so that we weren't finding any fish. We did score big hiking into one of the lakes further off the road as we found a ton of fresh raspberries and ended up killing an hour or so picking and eating. When we drove up those roads, we found a number of people dispersed camping. I think if we were to do it again I might want to go that route. It's very pleasant and quiet and there seemed to be quite a few spots if one was willing to put the time in to finding one.
We spent the rest of the second day back on the lakes closer to the campground where we pulled in 4 more fish that we kept for dinner. The trip was awesome and I'd love to do it again next year. We only ended up checking out about 5 or 6 of the tens of bodies of water in the immediate vicinity. I'd love to get back out on those Forrest Service roads again and see if we can find some quiet water.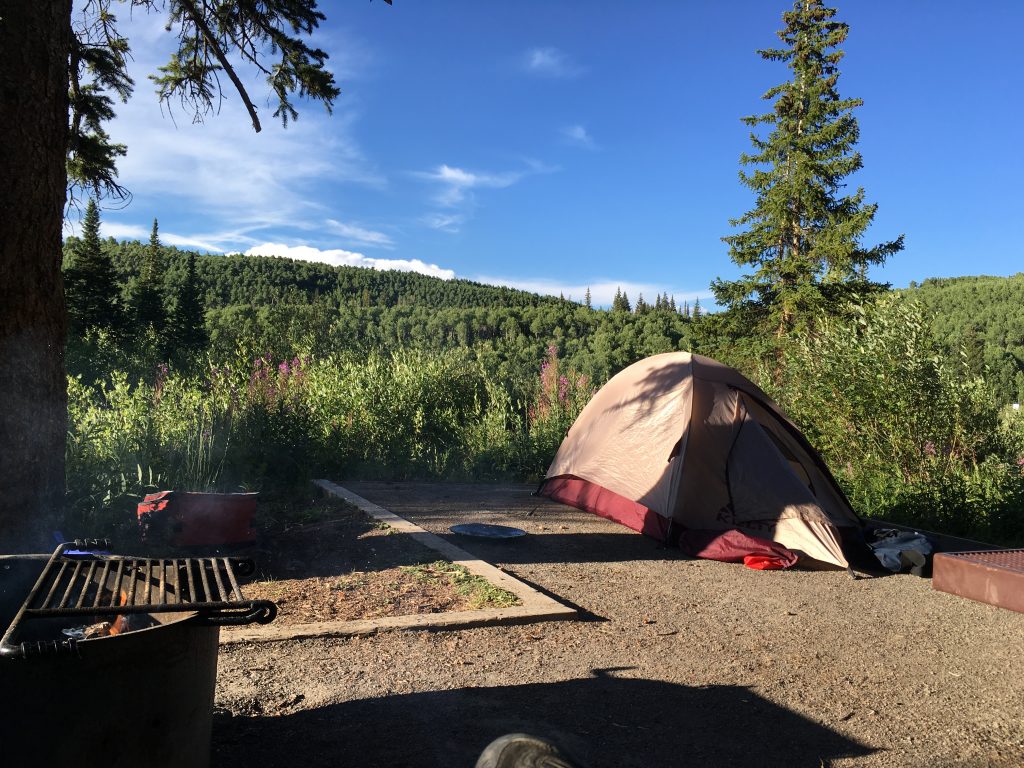 This was our site. It was quiet and very clean!